Our exclusive Multi-Turbo 3.0 includes a Center Turbo that works at the systems base level, and an AI Turbo that predicts and resolves system abnormalities (often caused by third-party apps) before they happen. From better network performance, to rapid cooling, to smooth AI functions and game play, user experience is now more exhilarating than ever. A new feature in Settings gives you an array of options for customizing screen animations. It can be used when the phone unlocks, recognizes your face, and many other interactions.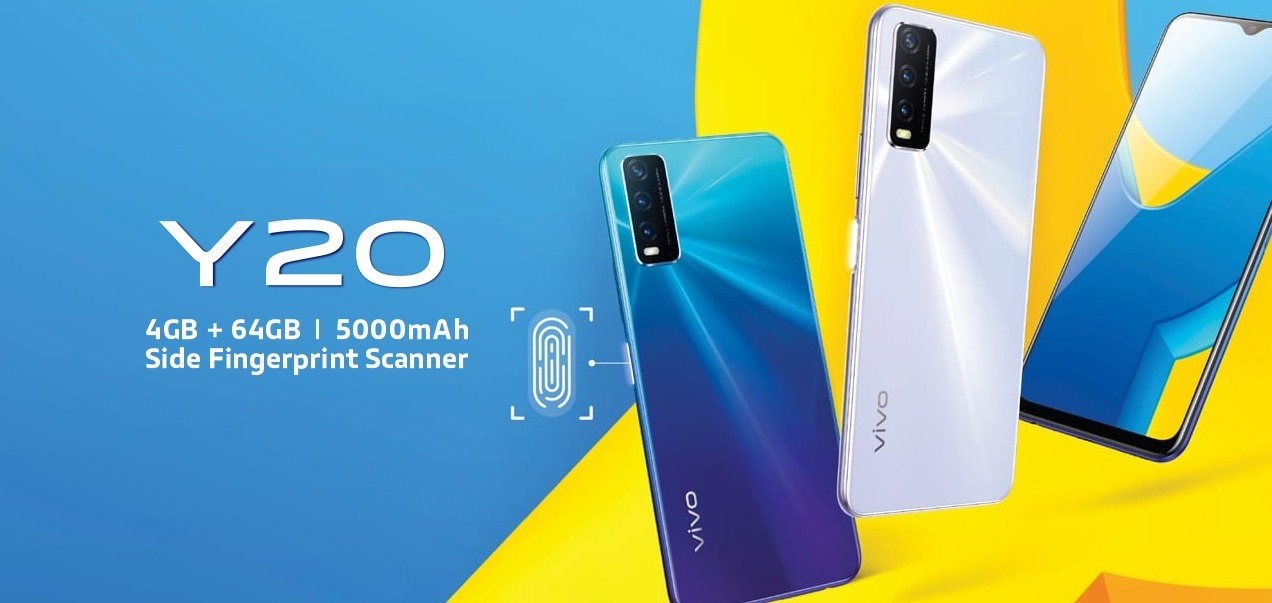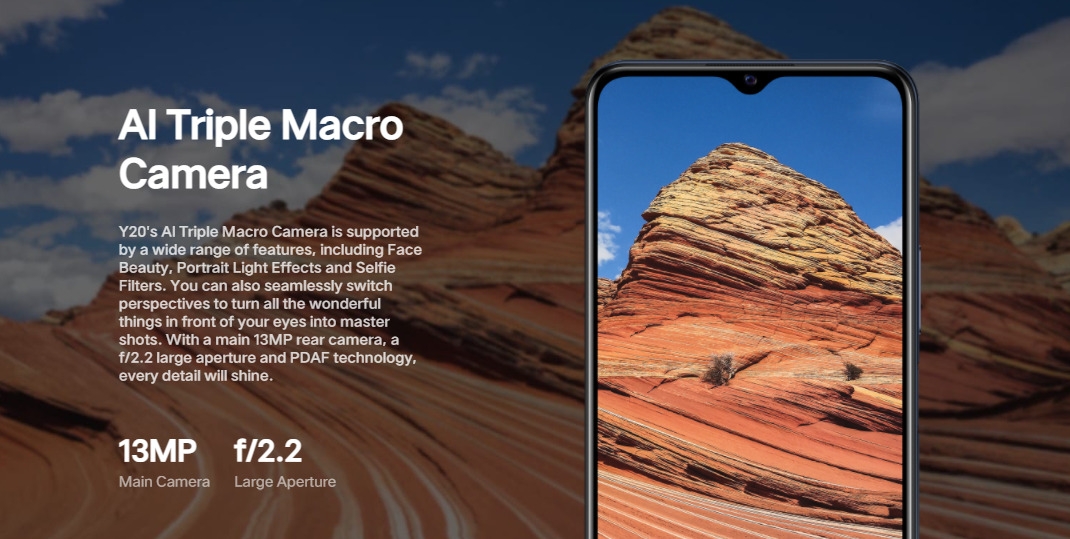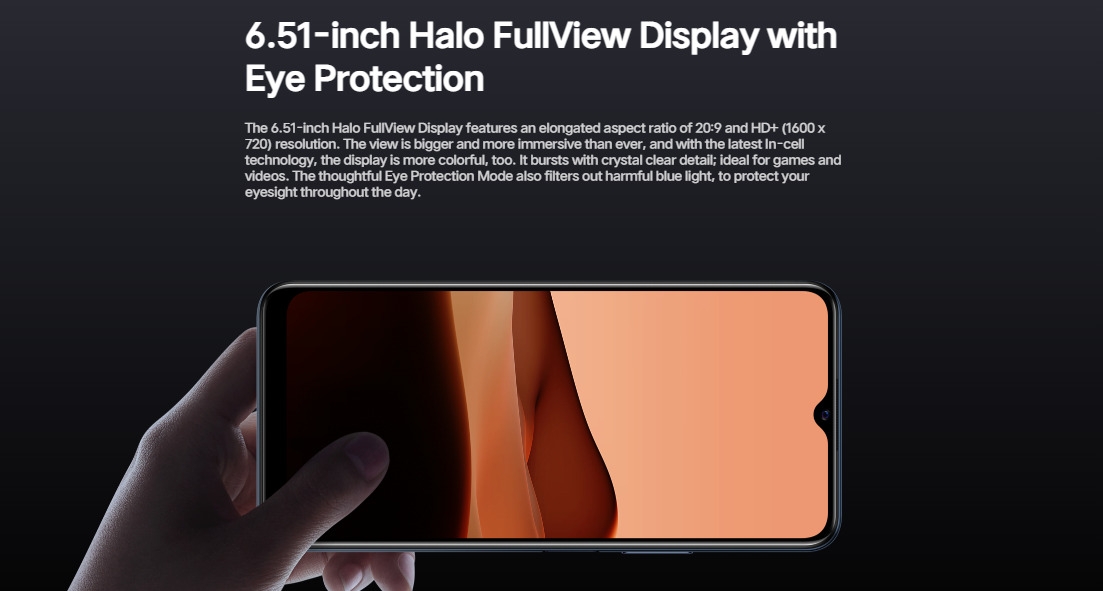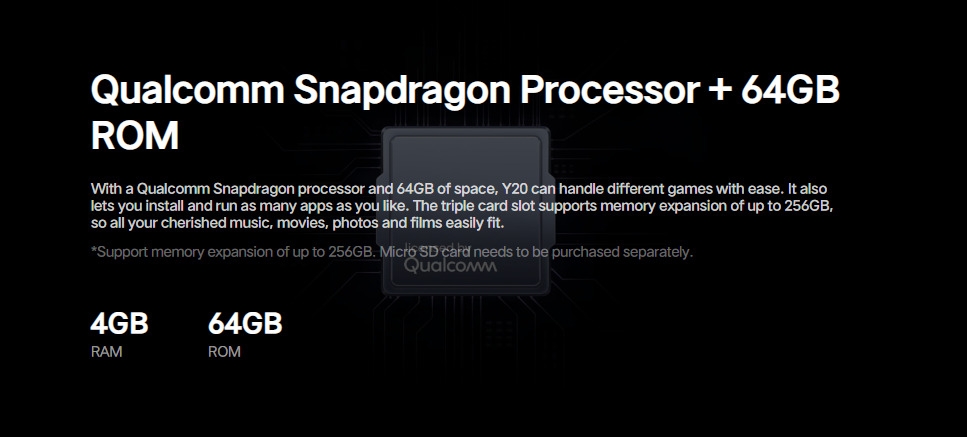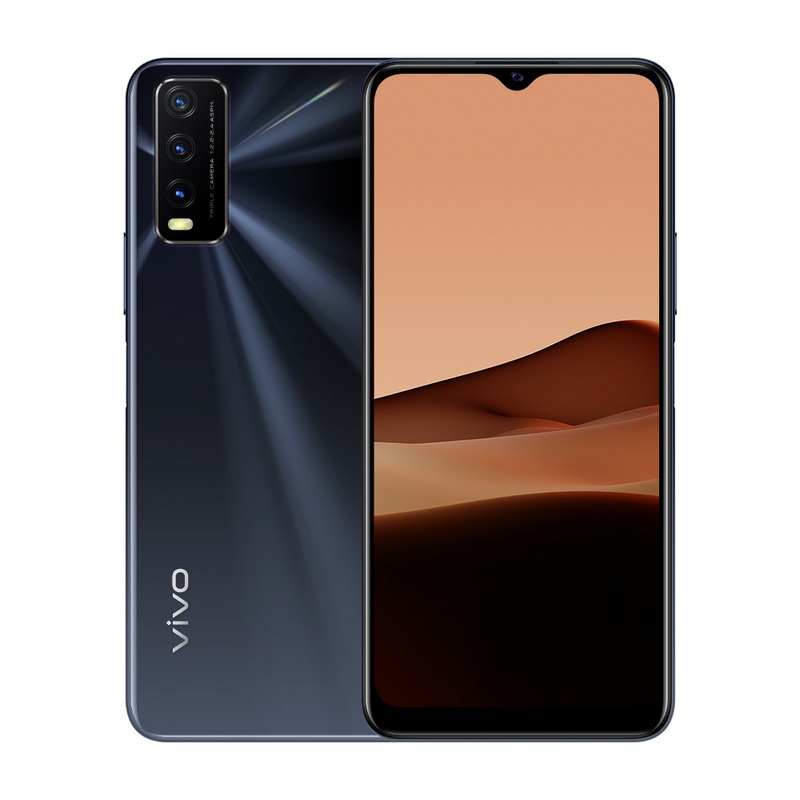 Display Features
Display Size 16.54 cm (6.51 inch)
Resolution 1600 x 720 Pixels
Resolution Type HD+
GPU Qualcomm Adreno 610
Display Type HD+ IPS Halo Full View Display
Other Display Features 89% Screen to Body Ratio
OS & Processor Features
Operating System Android 10
Processor Type Qualcomm Snapdragon 460
Processor Core Octa Core
Primary Clock Speed 1.8 GHz
Camera:
Front 8MP / Rear 13MP Main + 2MPBokeh Camera + 2MP Super Macro Camera
Aperture: Front f/1.8 (8MP), Rear f/2.2 (13MP) + f/2.4 (2MP) + f/2.4 (2MP)
Flash: Rear flash
Scene Modes: Portrait, Photo, Video, Panorama, Live Photo, Slo-mo, Time-Lapse, Professional
Memory & Storage Features
Internal Storage 64 GB
RAM 4 GB
Expandable Storage 256 GB
Supported Memory Card Type microSD
Memory Card Slot Type Dedicated Slot
Call Log Memory Yes
Other Details
Smartphone Yes
SIM Size Nano
User Interface FunTouch OS 10.5 (Based on Android 10)
Removable Battery No
SMS Yes
Graphics PPI 269 PPI
SIM Access Dual Standby
Sensors Accelerometer, Ambient Light Sensor, Proximity Sensor, E-compass, Fingerprint, Gyroscope
Browser Vivo Browser, Google Chrome
Other Features Dual 4G, Game Mode, Face Access 2.0, Smart Split 3.0, Eye Protection Mode, App Clone, Side Mounted Fingerprint Sensor, 18 W
GPS Type A-GPS, Beidou, Glonass, Galileo
Battery & Power Features
Battery Capacity 5000 mAh
Vivo Y20 Smartphone (4GB RAM, 64GB ROM) affordable smartphone to buy
The smartphone sector inKenya is rapidly growing. Apparently, there are certain main players, suchas Apple and Samsung in the smartphone industry, but for the most part, theunderdogs are winning. Vivo, Oppo's sister firm, has recently entered theKenyan market with their smartphones such as V19 and V19 pro.
Today, Vivo Kenya isattempting to expand its market presence with the Vivo Y20, yet another enticinggadget. The Vivo Y20 smartphone was released on August 26, 2020. The Vivo Y20is part of Vivo's Y-series, which caters to young people. The series' devicesinclude visually pleasing (and often flamboyant) looks, a good Androidexperience, and good battery life at a reasonable price. The Vivo Y20 maintainsits inherent characteristics. Even now in 2021, the Vivo Y20 memory capacity of64GB storage is more than enough for anyone seeking a seamless smartphone experience.Vivo Y20 Ram is 4GB. Its Qualcomm Snapdragon 460 processor paired with the Adreno 610 GPU in thisphone. The Snapdragon 460 is built on a 10nm process and has earned a lot ofpraise for how much better it is than its predecessor.
This implies that,despite the fact that the Vivo Y20 does not inherently have a 700-series oreven a 600-series Snapdragon CPU, it delivers excellent performance. This phoneactually one of the best android phones in Kenya. Vivo Y20 camera settings onthe Vivo Y20 are extremely excellent, especially considering how affordablecheap it is. This makes it one of the best camera phones. On the back, thesmartphone has it has a triple camera setup, with a 13MP f/2.2 primary lenswith autofocus, a 2MP f/2.4 depth camera, as well as with an additional 2MPf/2.4 shooter.
It contains an 8MP f/1.8Selfie Shooter on the front with a screen flash. It has a big battery capacitywhich powers it, Face detection, Touch to focus, HDR mode, digital zoom,continuous shooting, exposure correction, as well as ISO control are just a fewof the amazing features offered by the whole rear camera array. Vivo Y20 screen sizedisplay is 6.51-inch, a single 8MP selfie camera is hidden in a dew-drop notch.Essentially, his is a 720p panel, and prior reports indicate thatit is quite good. It contains a pixel density of 270ppi and a resolution of 720x 1600 pixels for a stunning cinematic image.
In addition, the phonepossesses a 20:9 aspect ratio and a waterdrop notch on the front that housesthe selfie camera. Vivo Y20 battery is astrong, non-replaceable, Li-ion 5000 mAh battery with 18W Fast Charging isincorporated in the phone. Users are no longer have to wait hours for theirphone to be charged. When you combine this with a power-saving 720p display anda processor that isn't power-hungry, you've got a winner in terms of batterylife.
Generally, this is VivoY20 price in Kenya is an affordable smartphone and the device has improvedperformance capabilities, a deluxe design, and a cutting-edge AI triple camerathat smoothly captures moments with sufficient detail and precision. Thiscombination is in line with the brand's goal of providing elegant smartphoneswith cutting-edge technology at the most affordable prices. Vivo also hasreleased their latest Flagship Vivo smartphone 2021 called Vivo
V21.
Summation
Vivo Y20 is essentiallyan ideal cheap smartphone that you should consider as a must-buy phone. Thefact that it has incredible features at an amazingly low price. It is worthspending your money on this cheap smartphone to enjoy the convenience thatcomes along with its cutting-edge technology and advanced features. It is awidely accepted phone not only across the world but also in Kenya. The latestVivo smartphone is available online to buy. Visit Jambo Shoppe online shop tobuy this phone at an amazing price.